Product Specifications (English)
Grobo Unpacking Instructions
PLEASE RETAIN PACKAGING FOR 30 DAYS AFTER OPENING
If your package arrives damaged:
1. Accept the package but note on the acceptance that it was damaged
2. Do not unpack right away
       a. Take photos of the damages to the packaging (we need all of the photos below):
               - The dent(s)
               - The packaging the unit came in and any damage to it
               - The label on the packaging
               - The entire unit
               - Any internal denting that the external damage caused
       b. Unpack the unit
       c. Take photos of any damage to the unit
       d. Retain packaging in case unit needs to be shipped back for repair
       e. Contact customer support with photos within 24 hours at support@grobo.io
Open package carefully
Look through all packaging materials for components and boxes.
Welcome to your Grobo!
To get started visit my.grobo.io or download our iOS app or Android app.
Follow the setup instructions then sit back, relax, and let Grobo take care of your plants!
What's in the Box?
- Grobo Grow Box, 
- Grow Kit, 
- Power Adapter
If any of the above items are missing from your box, please contact us at support@grobo.io
Important Safety Instructions
This appliance is not to be used by persons (including children) with reduced physical, sensory or mental capabilities, or lack of experience and knowledge unless they have been given supervision or instruction.
Children being supervised are not to play with the appliance.
This appliance is to be used only with power supply provided.
Input: 24VDC 6.67A
IMPORTANT: Do not install or store appliance where it will be exposed to weather or running in extreme temperatures and humidity. Do not operate in temperatures below 59°F (15°C) or above 90°F (30°C).
How To Unlock Grobo.
There are two easy ways to unlock your Grobo:

Hold the button on the back of Grobo for 2 seconds then release to unlock the door.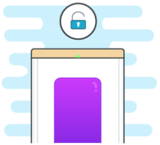 After Grobo setup, use the Grobo controls in the app to lock and unlock the door.
Product: Hydroponic Growing System

Input: 24 VDC ~6.67A, 50/60hz

CAN ICES-3 (B) /NMB-3 (B)
This device complies with Part 15 of the FCC Rules. Operation is subject to the following two conditions: (1) this device may not cause harmful interference and (2) this device must accept any interference received, including interference that may cause undesired operation.
Note:
This equipment has been tested and found to comply with the limits for a Class B digital
device, pursuant to part 15 of the FCC Rules. These limits are designed to provide reasonable protection against harmful
interference in a residential installation. This equipment generates, uses and can radiate radio frequency
energy and, if not installed and used in accordance with the instructions, may cause harmful
interference to radio communications. However, there is no guarantee that interference will not occur in a particular installation. If this equipment does cause harmful
interference to radio or television reception, which can be determined by turning the equipment off and on, the user is encouraged to try to correct the interference by one or more of the following measures:
- Reorient or relocate the receiving antenna
- Increase the separation between the equipment and receiver.
- Connect the equipment into an outlet on a circuit different from that to which the receiver is connected.
- Consult the dealer or an experienced radio/TV technician for help.
Changes or modifications not expressly approved by the party responsible for compliance could void the user's authority to operate the equipment.
Need help? We're here for you.