Liquid error: product form must be given a product
Where sleek meets discrete.
🇺🇸 Proudly assembled in the USA
30 day money back guarantee

High quality yields, every grow

Includes free grow kit ($70 value)
Shipping will begin in August 2019. Orders are 100% refundable until they ship.
Liquid error: product form must be given a product
Liquid error: product form must be given a product
Liquid error: product form must be given a product


Grobo Solid uses hydroponics which means your plant grows in a mix of water, nutrients and air. This lets Grobo optimize the nutrients and lighting for each of our 200+ grow recipes. The result? Your plant grows quickly and produces the highest quality flavors.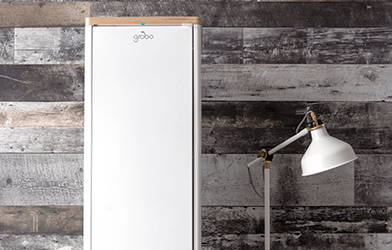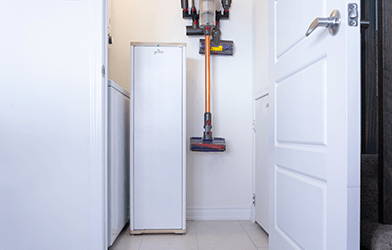 Grobo Solid is our most affordable system ever. With a small footprint and an energy efficient design, it's a perfect fit for your life. Just plug it in and start growing!

Do more of what you love while Grobo keeps a watchful eye on your plants. Advanced sensors know when your plant's hungry then automatically give it nutrients and adjust the pH as necessary. The 8-spectrum LED lights are perfectly tuned to grow the highest quality and quantity yields. Just sit back and chill while our sophisticated technology takes care of your grow. (Oh, and did we mention it can dry your plants too?!)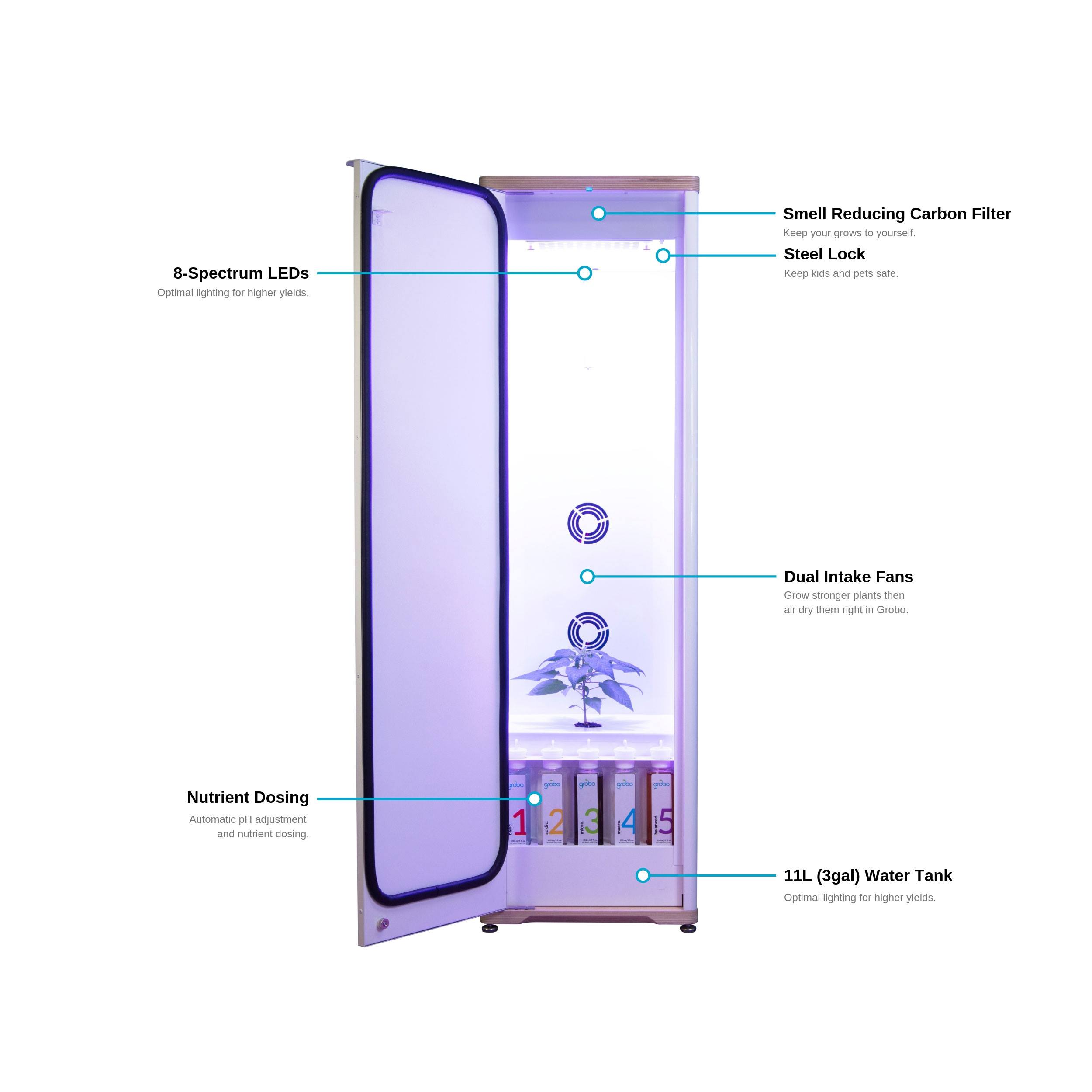 We want to ensure that your growing experience is nothing short of incredible and we'll be with you every step of the way. Grobo will automatically send you educational tips right when you need them. Want to brag about your grow? Share it on our AllGrowers community or the in-app grow journals. Need help? Contact our support team and we'll be happy to help!
Dimensions
Width: 14 inches (35.5cm)
Depth: 14 inches (35.5cm)
Height: 48 inches (122cm)
Weight
Grobo: 90lbs (40kg)
Body Material
Color: Gloss White
Material: Cold Rolled Steel
Top & Base Material
Color: NaturalMaterial: Multilayered Baltic Birch Plywood
Lighting
Proprietary 8-Spectrum 150 Watt LED light
Electrical Requirements
220V - Grobo plugs right into the wall just like any other appliance
WiFi
Grobo requires a WiFi connection to function properly Grobo
App
Access your Grobo and track your plant's progress through the Grobo App on any desktop, laptop, tablet or smartphone.
Firmware & Software
Your Grobo is automatically upgraded to the latest available firmware and software when it is available. This is done wirelessly. All you need is to be connected to your WiFi network. This does not require any manual installation.
Sensors
Grobo uses a variety of sensors that continually collect and transmit data regarding your plant's growing environment.
pH Sensor: Maintaining a consistent pH level within the optimal range is essential for your plant to grow healthy. While tedious for an individual, Grobo makes it easy. Our sensors monitor and adjust your pH automatically if it is detected to be outside of the optimal range.
Temperature Sensor: This sensor measures both the internal and external temperatures of your Grobo growbox to ensure it's always in the optimal range.
EC Sensor: EC stands for electrical conductivity. This sensor is used to measure the level of nutrients and solids in the water. The data is then used to adjust the level of nutrient dosing in your Grobo.
Water Level Sensor: Three water level sensors in your Grobo's reservoir are used to measure the level of water in the tank. At various stages in your plant's growth cycle the water level will need to be adjusted for optimal growth. These sensors ensure your water tank is filled to the correct point every time.
Humidity Sensor: This sensor measures the internal levels of humidity.
Experience growing, risk free.



Liquid error: product form must be given a product
Speak to a Grobo expert at
+1-855-229-1770 or Live Chat