This is serious. Our relationship has changed dramatically over the years. Not only in the way I consume you, but in the way I view you. What started innocently enough 28 years ago has grown into not only a passion, but a profession.
I am a Canadian medical cannabis patient that is employed by Grobo, a startup company involved in the cannabis space, and I'd like to share my story with you.
I was introduced to cannabis like many other Canadian teens were: in the form of hashish. My friends and I would put a dime (10 cents) into the bottom of a beer bottle and swirl it around, tapping it on the side of our foot to shoot the dime out the side of the bottle, making a perfect hole for inserting a smoking piece of hash.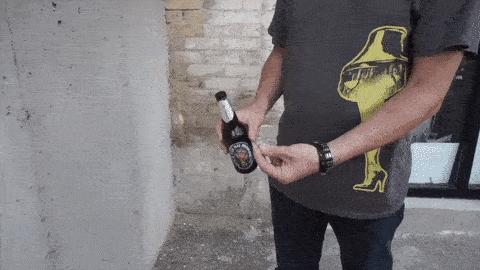 They were called 'bottle tokes' and were all I knew for years, until an American from California showed me some real 'green' at a party. He had a collapsible water bong that he carried on him at all times, dude!
Even after all these years, it was a treat I won't forget. It was fun for a while, but time, work, family, and general stigma around cannabis all contributed to my reduced usage and an eventual 7 year period of complete abstinence.
One of my favorite music lyrics by Pink Floyd is "you run and you run to catch up to the sun but it's sinking, racing around to come up behind you again".
My Journey To Health
A wonderful analogy for getting old; it references the race we all run against time. So in an effort to prove I was still young and fit, an ambitious Algonquin park canoe trip eventually led to an MRI on my hip which revealed a rare ailment: Avascular Necrosis (AVN) of the right hip. It basically meant that I needed a hip replacement.
Limited mobility and pain are the hallmarks of AVN. The common strategy is to hold out for 5 years, then begin the 'replacing of the hip' every 15 years for life.
I followed my doctor's advice and endured the usual opioid onslaught that has been traditional medicine's go-to for fighting pain for decades. It was brutal. These doctor prescribed "solutions" were horrible. Completely masking the pain for a couple hours seemed great at the time, but the next day reminded me, in a very painful way, that I had exceeded my body's limitations badly.
I needed something that was more reliable, something that could be used more frequently, that could keep me grounded. This is when I turned back to Cannabis.
Cannabis does not make me think I'm superman, and it keeps me in touch with my pain so that I don't do things I shouldn't and over exert myself.
The best way I can describe the difference between using conventional prescription medication (morphine, oxy, etc.) versus cannabis for pain, is that conventional medication hides it, while cannabis distracts from it. I much prefer the latter.
Having the cannabis conversation with my doctor was interesting.
He had several patients that he prescribed cannabis for, the eldest of which being 72 years old. He stated that I would not be happy with the product Health Canada was providing, and that I was best off with the black market.
He signed my paperwork and I was granted Marijuana Medical Access Regulations (MMAR) program status. I was really looking to protect my family and myself by obtaining my licence, not to find another source for medicine.
My Experience with Government- Grown Medicinal Cannabis
I now had a big fancy piece of paper from the Canadian government saying I was legit, and Health Canada was beginning to issue licences to 'Licensed Producers' across the country.
Wanting to find the best medicine for my AVN, I signed on with a Licensed Producer (LP). That is when the horrors began. The only way I could place an order was by phone.
One day, I was on hold for well over an hour before being mysteriously disconnected. You would not stand in line for 1 ½ hours at a pharmacy, only to be kicked to the back of the line at some point.
If my order was not in by Thursday at 1pm, I would be waiting until Monday to receive my medicine. That is an agonizing and debilitating 5 days of waiting in pain. You don't have to get your prescription into the pharmacy 96 hours in advance if you want to see it for the weekend.
When my LP order did finally arrive, the medicine was over dried, microwaved (irradiated to meet Health Canada's onerous requirements), and very poor quality.
I was also unable to reorder it because they ran out of product, and the strain that worked best for me never did return to their store.
Here is the best analogy I can think of… you have to wait for the Tylenol at your local drugstore to become available again and are forced to use Advil or Motrin until Tylenol is available again… but it never comes back to the store.
The worst part though is the fact that I had to pay $750 a month for my medication. Even using their low income discount program, this LP was charging me $8.33 per gram.
In comparison, Aphria Inc CEO, Vic Neufeld, revealed they have succeeded in reducing their all-in cash cost to $1.15 per gram. Paying top dollar for medicine that is inferior to local dispensaries or the black market is not something I'm willing to do.
So the doctor recommends using cannabis, the government condones it, and the warehouse is willing to provide it, but the system is broken. There has to be a better way.
It begins with a talk with the wife. She does not like cannabis and she does not use cannabis. However, having seen the massive difference in me between the side effects of opioids (I lost 70 lbs for example) vs cannabis, she was fully on board. Cannabis was not a danger to our family, it was a saviour.
Even with transparency and support, I started building what I call 3 x S: small, stealthy and stupid.
My First Grow Set-Up
My initial setup included a large plastic bin, 6 CFL bulbs, 2 computer fans and a DWC (Deep Water Culture) 2 plant setup. Oh the lessons learned with each and every grow! It did not take long before I realized that an investment was needed, not only of money but of my time.
After many hours of research and just over $2000, I had my first 2 foot x 2.5 foot tent up and running. With this investment, I could now produce the $9000 of medicine I needed annually to keep myself mobile, manage my pain and not break the bank.
This is not a place you arrive at, it is a continuous journey. A journey of success and failure, learning and crafting, and changing and waiting. Lots of waiting. Plants take time to grow. Growing cannabis is also a very personal experience. With all of the effort invested, patience is key, and it was the key for the next step in my journey.
Concluding Thoughts 
Being an expert cannabis grower is not something I've ever thought to put on my resume. I surprised myself by applying to a horticulture position with a startup that had nothing to do with cannabis.
I had previously interviewed the founder for the Tech Startup Podcast, so it wasn't completely out of left field, but I still remember him being one of the 1st people that I told about my garden.
I did not end up being selected for the position, but patience. Less than a year later, the entire Grobo team is touring my garden(s), and within a week, I had an offer of employment.
Doing what you love is strange, it's… weightless. I feel pressure because there is so much that I'm interested in and only so much time.
I'm the lead horticulturalist, community manager, and company relationship builder. All successful startup employees wear many hats it seems. There is still stress, pressure, deadlines, problems, errors, conflicts and all, but they are all different somehow because I love what I do. The difference is everything.
I wish you all weightlessness,
Stephen
How has cannabis helped you? Share your stories below.