Cannabis and gummy bears. Two of our favourite things. So let's put them together and make some cannabis gummy bears. 
Cannabis infused gummies are convenient, discreet and a lot of fun. Luckily making them is fun too, and the prep time takes less than 5 minutes.
Benefits of Making Your Own Cannabis Edibles
If you've ever thought that cannabis gummies are great but they're too expensive and don't always have the right concentration of THC to CBD then this recipe is for you.
Making your own gummies puts the control into your hands, allowing you to tweak the recipe to suit you best and your ideal potency and flavor.
One great benefit of making your own cannabis edibles means that you are having a smoke free experience with cannabis and is often very discreet if you're out and about.
We've tested out lots of different recipes (for science, of course) and fell in love with the sour cherry flavored cannabis gummies. They're just the right mix of sweet and tangy and definitely powerful, so follow along and learn how to make weed gummies! 
You can purchase the sour cherry cannabis gummy making kit from LEVO. Right now they have a special offer! 
Save $6.99 USD on a gummy making bundle. This includes 2 gummy trays and 2 gummy mix flavours of your choice. They also have grapefruit, peach, mango, raspberry, and cola flavoured sachets. 
Let's get started on how to make canna gummies, cannabis gummies, weed gummies or THC gummies - whichever name you like best.
Sour Cherry Cannabis Infused Gummy Bears
1 package of Zen Zingers Cherry Bomb Powder

(If you don't like the cherry flavor, this brand also sells mango flavor, raspberry flavor, and cola flavor).

Cannabis oil (

click here

to learn how to make your own) 

45mL of water 

2-4 tbsp of sugar 

Measuring cup 

Stove 

Cooking pot 

Spoon 

Syringe (or a spoon again) 

gummy bear mold

, or whatever shape you prefer!
1.Turn your stove on to medium-high heat. In a pot, add the Zen Zinger's Cherry Bomb powder and 45mL of reverse osmosis water. Stir or whisk continuously.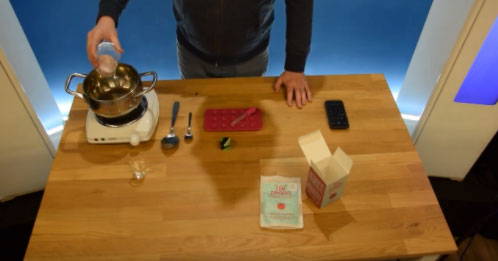 2. Once you have mixed the powder and water, fully reduce the temperature to low heat. Leave on the stove for 4 minutes without touching the mixture. It should be at a slight boil.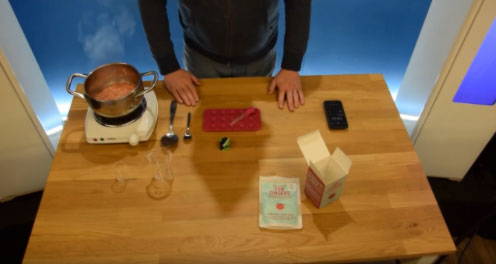 3. After 4 minutes take the mixture off the low heat and add the cannabis oil, mix gently.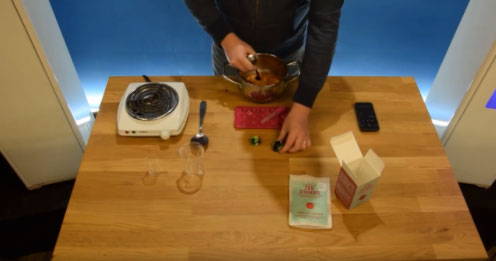 4. Use a syringe or spoon to pour the mixture into the gummy bear mold or whatever fun shape you prefer.
Put the filled mold into the fridge for 24 hours.

After 24 hours, cover each gummy bear in table sugar and enjoy!
Here is a link to the full video on how to make sour cherry infused gummies: 
Interested in making cannabis honey oil? Check out our video! 
Other THC Gummy Recipes
As mentioned earlier we tried out a lot of different cannabis gummy recipes but loved the sour cherry flavored gummies. Although there are many varieties of cannabis gummies out there, you just have to find what you like.
The cannabis oil that was used in the recipe above was honey oil, but other cannabis oils can be used as well. Just simply substitute the oil in the recipe. This cannabis infused oil could be coconut oil, butter or MCT oil which all slightly impact the final product.
For example, using cannabis infused MCT oil will make the final gummies less dense, more clear and contain a more jelly-like texture similar to jello. Compared to if you were to use cannabis infused coconut oil like described next, the final gummies will be more dense and have a creamy texture instead of jelly like.
Cannabis Infused Coconut Oil Gummy Bears
Not interested in the recipe for sour cherry cannabis infused gummy bears? No worries, maybe this take on cannabis infused coconut oil gummy bears are more your style. You may also like both!
What You'll Need:
1 cup of water (divide into 1/2 cups)

3/4- 1 ounce of unflavored gelatin

1/2 cup of cannabis infused coconut oil (or whatever oil you prefer)

2 teaspoons of liquid sunflower soy lecithin

1 teaspoon of lemon juice

3 ounces or 1 small packet of flavored jello

5-10 drops of flavoring oils (optional)

Measuring cup 

Stove 

Cooking pots

Whisk

Dropper

gummy bear mold, or whatever shape you prefer!
Instructions: 
In a small bowl mix 1/2 cup of water and the unflavored gelatin. This mixture will be very thick. Set aside to bloom.

Prepare a double boiler with medium-high heat. Once close to boiling, turn to low temperature and let simmer.

To the top pan of the double boiler add infused coconut oil and liquid sunflower soy lecithin. Allow the coconut oil to melt and then whisk.

In a small separate saucepan, bring the remaining 1/2 cup of water to a boil.

Once the water is boiling add lemon juice and jello. Mix well to dissolve.

Slowly pour the jello mix into the double boiler containing the infused coconut oil. Add flavoring oils if desired.

Whisk the mixture consistently for 10 minutes to ensure no clumps are formed.

Using a dropper, fill the molds of your choice with the gummy bears mixture.

Allow molds to sit at room temperature for 25 minutes to 30 minutes before removing.

Let the cannabis infused gummies air dry at room temperature for 24 hours or place in the refrigerator or freezer.
How To Store Your THC Gummies
The best way to keep your homemade cannabis gummies or any cannabis gummies is in your refrigerator located in an airtight container.
It's best to keep your cannabis gummies away from warm or bright places for more than an hour at a time. To ensure the potency of the cannabis stays locked in it is important to keep cannabis gummies in a cool, dark location.
Concluding Thoughts
No matter which edibles you make, it's always best to use the best quality cannabis in order to have the best quality edibles.
If you're wanting to get your hands on the best bud, consider using a Grobo. Grobo is an automated grow box that uses deep water culture to grow plants efficiently. All you have to do is pick your plant, pick a grow recipe, and let the system take care of the rest!
However, if you're finding the cannabis oil edible recipes given above are too strong or potent and you're looking for cannabis infused gummy bears with a lower potency consider using AVB. AVB or already vaped bud can be used to make infused oil less potent that may be ideal for some users. 
What are your favourite cannabis edibles? Let us know below.