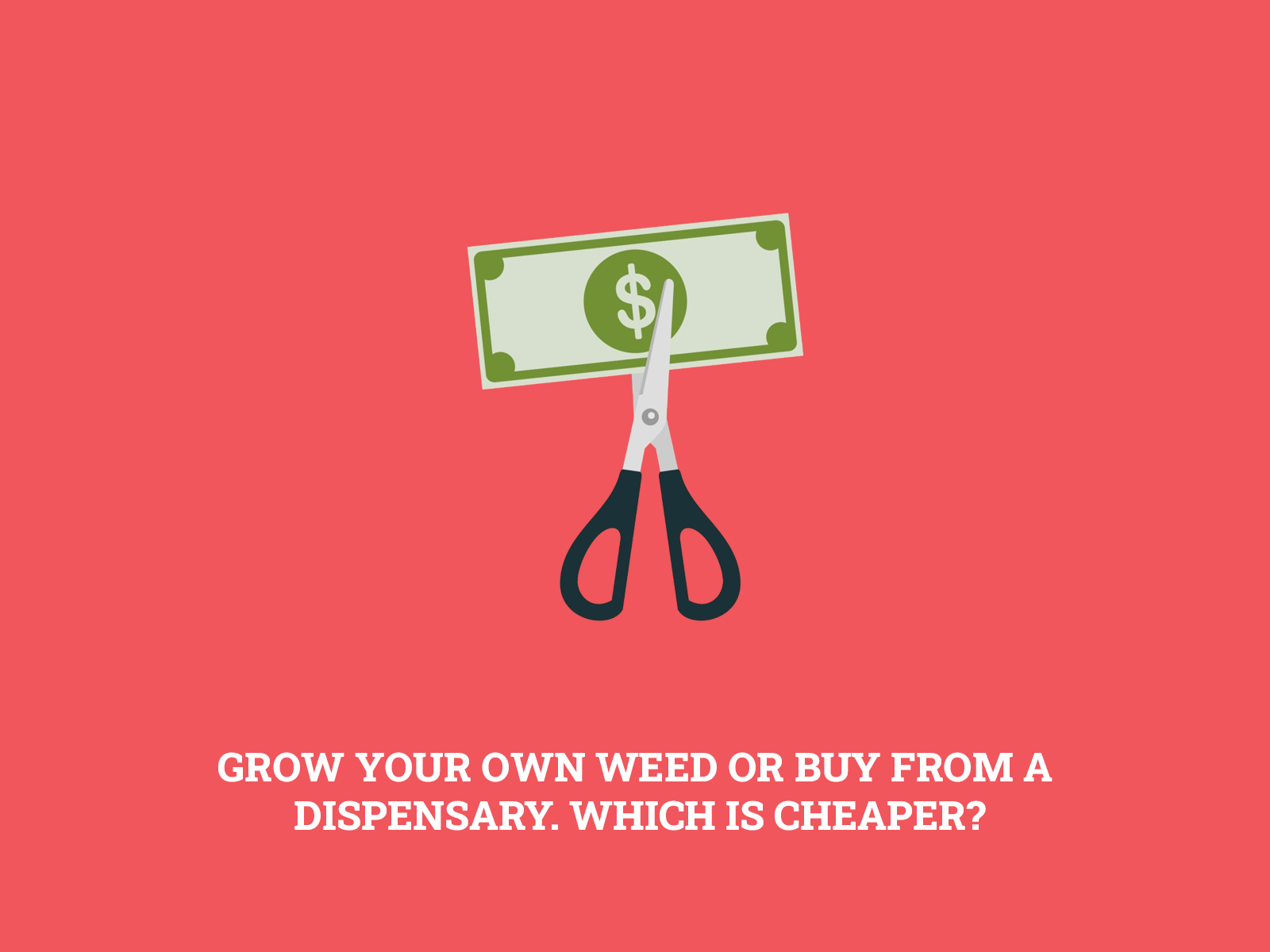 Americans spend around $10 billion a year on legal weed. That number has been growing. It also doesn't consider how much is spent outside the legal markets either.  
Those who do buy their cannabis legally are likely to buy from a dispensary. At first glance, dispensary prices may not look so bad, but it's clear that, over time, it can add up.  
In light of that, you're wondering what's actually cheaper. Should you keep spending all your money at the dispensary, or would it be cheaper to grow your own weed?  
It's not always clear how to answer that question, since there are a lot of different factors to consider. That's why we put this guide together for you. With it, you'll be in a better position to consider the real costs of weed dispensary prices vs growing your own.  
What Are Weed Dispensary Prices?
The price of store-bought cannabis depends on quite a few different factors. First, you'll have to consider the type of product you're buying.  
As a rule of thumb, edibles tend to be the cheapest type of product to buy. They often have the least amount of cannabis in them, though. By comparison, concentrates are quite a bit more expensive.  
Flower tends to be more middle of the road pricing. Still, at dispensary pricing, an ounce might cost you hundreds of dollars on average. Current averages say you'll pay about $250 for an ounce.  
Why is Weed so Expensive?
There are many reasons weed can be expensive when you buy it from a dispensary. First, you have to look at the quality of product you're buying.
Some products will be relatively cheap. They may not be as high-quality, though. Flowers may be treated with pesticides, for example. Higher-quality flower may be grown organically, which means no pesticide use.
Concentrates tend to be expensive because of the process of manufacturing them. The purer the product, the more expensive it's going to be.
Then factor in different methods of making concentrates. Some use cheaper solvents to create the product. Others will use higher end solvents, which make the product safer.
There are also considerations about the costs of keeping the business operating. Many cannabis producers have to do rigorous testing, and they're also subject to some strict laws. Compliance can raise their overheads, which then gets passed on to you.
Some states will have higher or lower prices for weed for that reason.
Supply may also play a role. In Colorado, for example, there's been a weed oversupply. Producers are in a pricing war, trying to entice customers with lower prices.
In states where demand outstrips supply, prices are likely to be higher. Some states may even have regulations about pricing as well.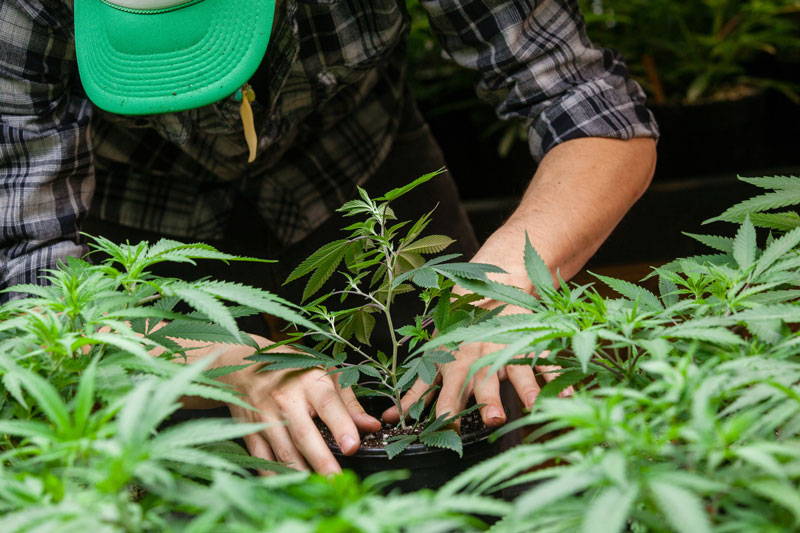 The Costs to Grow Your Own Weed
It's easy to see why people would consider growing their own cannabis. Dispensary pricing can put a serious dent in your wallet.  
So, how much will it cost you to grow your own weed at home?  
The answer is "it depends." The costs can vary a lot, depending on a few different factors.  
You'll need some supplies to get started. For most people, this involves investments in:
Soil
A nutrient starter kit
Pots for the plants
Water tanks
You may not need all of these, depending on what you decide to buy. A starter kit may cost you a little bit more, but it often provides several of the items you'll need. For example, if you get a hydroponic system, you may not need to buy soil.
You'll also need to think about the hardware you'll need. People often forget to factor these costs in. You'll likely want to invest in:
A metal halide bulb
A 1,000-watt light setup
An inline fan
A carbon filter
Trellising, zip ties, and stakes
Once you've bought most of these supplies, though, you'll have them for a while. You won't need to buy them every time you want to grow your own weed.
You'll also need to invest in a grow space itself. Small grows can be set up for less, and grow kits may include more of what you need for less. Keep in mind that a smaller space will limit how much you can grow.  
Finally, you'll need to buy plants or seeds. The price of these will depend on the quality of the plant. Clones are faster growing, which can reduce your time.  
When you're buying seeds or clones, remember that you want feminized seeds and female plants. Male plants do not produce flowers. They can also pollinate female plants, which will ruin your flower crop and produce seeds.  
How Much Can You Expect to Spend?
If you're just getting set up, you'll need to spend a bit more than if you went into the dispensary. One estimate suggests setting up a 6 x 6' grow space with six clone plants will run you a couple thousand dollars. That includes the electricity costs needed to keep your plants alive.
At first glance, that seems like a lot! So, is it cheaper to grow your own weed at home?
If this is a one-time thing for you, then the answer might be no. If you plan to use a lot of weed or keeping growing season after season, then it's a great investment.
"Sunk costs" make up a lot of that initial figure. Once you've set up your space and bought your fan, you're likely not going to need to pay for it again.
You may need to replace some of your items every now and then. After the initial set-up, though, you'll only be paying for:
The plants
Soil
Electricity
That lowers the cost of every gram of marijuana your home-growing operation yields.
Of course, this isn't the only set up out there. You may decide to set up a smaller space. You can also invest in an automated grow box, which takes all the guesswork of out of growing your own weed.  
Electricity Variables
One of the biggest costs for anyone planning to grow their own weed at home is electricity. Cannabis plants need a lot of light for optimal growth, which is why you need those lighting set ups for indoor growing.  

Electricity rates will depend on where you live, and even what time of day you have the lights on. You may also have heating or cooling costs to consider, so you can keep the grow space temperate.  
You can eliminate some of these factors if you can grow outdoors. Keep in mind you'll need to see that the plants have good lighting and water, and that it doesn't get too hot or cold for them.  
How Much Weed Can You Grow?
One big question for home-growers is the yield of their cannabis crop. Is it cheaper to sink thousands of dollars into a growing space if you only get a gram or two?  
The answer to that question would be no, which is why you'll be glad to hear you'll get much more than that. Keep in mind that growing cannabis does take some know-how, so you may want to read up on it.  
First, be sure to look for any laws limiting how many plants you can grow at home at one time. Many places suggest you can grow up to six plants. Some places prohibit growing your own plants.  
You may need to check local laws as well. Even if your state law allows for growing, your city or county government may not.  
You should also check in with your building, especially if you live in an apartment or rent. Apartment buildings and townhouses may have rules against growing.  
If you rent, you'll need to talk to your landlord. They may prohibit you from growing. Growing cannabis indoors can cause damage, particularly if the plants get moldy.  
It can also smell quite strongly, so some people may be opposed to it. You can always look for starter kits that help reduce the odor, and take steps to minimize it.  
So, how much weed can you get? Most experienced growers suggest that an indoor operation with a 1,000-watt lightbulb can yield around 1 gram per watt.  
That's about 1,000 grams. There are about 28 grams per ounce, so that's a little over 35 ounces. At dispensary pricing, that would cost you around $9,000 at the average price.  
It's a lot cheaper to grow your own, even if you only do it once.  
Will You Get That Much Weed?
As we said, growing cannabis does take some know-how, so it's not always realistic to expect you'll get 1 gram per watt with your indoor grow-op. That's especially true for people who are new to growing weed or growing it indoors.
So, what's a realistic expectation? Some suggest it might be around 0.5 gram per watt. Still, that's almost 18 ounces of weed.
Of course, this assumes all goes well with your growing operation. You'll need to make sure the plants are temperate, and they need lots of light. You'll also want to make sure they get the nutrients and water they need.
It's also important to keep an eye out for pests and mold, which can damage or kill your plants. Indoor plants are particularly susceptible to mold.
The size of your growing operation also impacts how much weed you'll get. If you have fewer plants or a smaller space, you may use a 400 or 600-watt lightbulb. You'll get less cannabis, but your costs for setup and operation will also be lower.
What Are the Benefits of Home-Grown Weed?
Cost is usually why people consider growing their own weed at home. There are other benefits as well.  
You have much more control over every aspect of your weed when you decide to grow at home. You get to decide the method of growing and even what soil they're in. You can also control their temperature, lighting, and other factors, which contribute to how the plants develop.  
This can also influence the flowering time. You're also in control when it comes to harvesting the flower too.
Finally, you also have choice of the strains you grow. Your local cannabis dispensary may not always have the strain you want on the shelf. That may be a problem if you want a particular strain for its CBD content or to help with a medical condition.  
Weed you buy at a dispensary is produced in enormous grow-ops. There are teams of cannabis growers and scientists working to ensure optimal cannabinoid levels and so on.  
You may also find your dispensary somewhat more reliable, especially if you don't have a green thumb. Until you've mastered growing cannabis, you may find you don't get as big of a crop as you expect.  
Of course, there's always something to be said for the rewarding experience of growing your own. You can take deep satisfaction in knowing you worked hard to cultivate your own weed.  
Deciding to grow your own weed can help you save money, as well as provide you with other benefits. If you're looking to get started, then you might wonder about the easiest way to get set up. An automated grow box could be the answer for you, especially if you have a small space.  
With an automated grow box, you add a seed or clone, then pick a grow recipe. The system does the rest for you, and you'll be rewarded with a few ounces every three to four months.  
Ready to get started with the simplest growing solution available? Take a look at the hundreds of strain options we have in our catalog. Pick your favorite, and you'll be growing your own weed in no time at all.