Back in 2014, when we first started Grobo, the home growing landscape was fairly sparse. Click & Grow was taking off with their countertop systems for herbs and veggies, while the cannabis space had a few low-tech grow cabinets around. Grobo started with a focus on countertop herbs and vegetables, with Click & Grow and Aerogarden as our main competitors. That product never came to market. 
Towards the end of 2015 we recognized the opportunity within the cannabis space as Canada and multiple states in the USA shifted towards medical and recreational cannabis legalization. Since then, we've seen a ton of companies come and go in the home growing space. So, what happened to CounterCrop, Seedo, and Cloudponics? Here's a quick history of what happened to each company and why you can no longer buy each product.
CounterCrop, Planty, Plug & Plant, Root, BitPonics, Plantario and many more have come and gone over the past 5 years. Countertop growing of fruits and vegetables is an awesome idea, but the economics is where it falls apart. That's the reason we decided to change our focus at Grobo. When you can buy a head of lettuce for $2 it just doesn't make sense to pay $200 for a system that will grow that head of lettuce in 30-45 days. The return on that investment is too long. In addition, to keep costs low (and due to technical restraints), all of these systems are relatively small. Designed to fit on a countertop as the name suggests. The result, is that they really can only grow some herbs and leafy greens. You can't produce tomatoes, peppers, or any other veggies in these grow systems. 
Click&Grow are the ones who have really done well. They figured out global distribution for their product and how to make good margins on seed pods. Aerogarden, which was purchased by Scott Miracle-Gro in 2016, has also done well but struggles to make profit. They're a publicly listed company but constantly having sales just to try push inventory volumes through. 
We're in agreement that home grown food is awesome and the technology is getting closer to making it all economically viable. It will still take years of R&D to accelerate growth and decrease manufacturing costs enough. In this regard, Grobo is taking the Tesla approach. Start with a high value, niche product [Tesla Roadster / Grobo Premium] and then leverage those technological developments to eventually create an affordable mass market product [Model 3]. 
Now let's look at the cannabis grow boxes to see, in depth, what's happened in the space.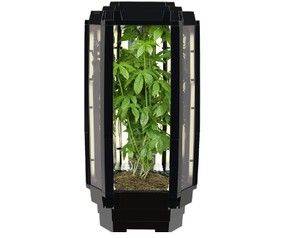 The original grow box, Phototron was 30 years ahead of its time. Back in the 1980s the first Phototron rolled out in California. Billed as a "grow anything" product, there was certainly a focus on cannabis for the company. They knew which market was interested and there was enough leeway to produce a product like this. The Phototron showed up in Popular Mechanics magazine and they claimed some extraordinary sales figures.
By 1992, the Phototron 3 had launched, staying true to the original design, a six-sided enclosure with tube lighting and windows on each side. It wouldn't be long, however, until the company suspended sales and marketing of the Phototron. The market had cooled down and it was becoming harder and harder to sell any cannabis related products.
Fast forward to November 13, 2012 and the Phototron is officially back. With the resurgence of cannabis legalization in the USA, GrowLife, the parent company, released a statement that they are making the product available again. Compared to all the excitement during the 90s, the revival is a quiet one. GrowLife shares a few press releases and creates a video tutorial series showcasing the Phototron and how to grow. In 2016, the Phototron ends up on Amazon briefly where remnants can be found today in both Canada and the USA. 
In 2020, they're all but a distant memory. GrowLife still exists as a company, but their focus is no longer on the Phototron. What is pretty amazing though, is that you can still find growers using the Phototron for their home grows. Will we see them again one day? Only time will tell!
[Read a Detailed History of Phototron]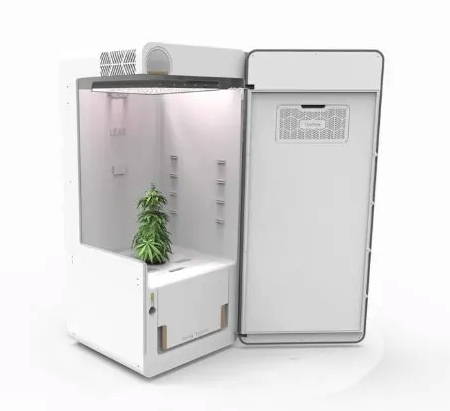 After the Phototron, LEAF (aka Corsica Innovations) was the first company to launch that truly focused on cannabis. Their big debut came in September 2015 when the CEO, Yoni Ofir, pitched the company at TechCrunch Disrupt. 
That pitch helped the company gain immediate attention and consumer support. LEAF began accepting pre-orders shortly after in early 2016 with a shipping date of late 2016. As most start-ups discover, it takes more time and money to produce a product than anyone expects. To help fund their operations, LEAF opened up a funding campaign on SeedInvest in 2017 which raised $2M USD. Their projections revealed that both the CEO and CTO were making $200K USD each per year and, as such, the funds didn't last long. 
The company largely went quiet throughout 2018 and in May 2019 they announced a $4.5M financing round has been closed. As part of this round, the investors required that the company become public. Becoming a publicly traded company is a long and expensive process. By early 2020 they still haven't shipped any product, nor have they gone public. Due to Seedo's downfall [described below] and the current market situation, the timing is less than ideal. I suspect that they are slowly progressing towards shipping but the investors might be working to take more control of the company or get some of their investment back (depending on the specifics of their investment agreement). 
At this point, we don't expect consumers to see any LEAF units until late 2020 at the earliest, a full 5 years after the first pre-orders were accepted. 
The 7Sensors Grow Box showed up in early 2016 as an automated soil home grow system with an early-bird price of $1,199 USD. Their system was clearly designed for cannabis, although their website and Kickstarter campaigns don't obviously state it. 7Sensors launched an awesome referral campaign called "Share. Get a box." that quickly grew their online following and helped spread their message. 
That wasn't enough, however, to successfully fund their Kickstarter campaign.  Securing only $39K USD of their $250K goal, the campaign was cancelled and by November 2016 the company had posted their last Instagram post. Their website continues to exist to this day, and every once in a while something changes, but for all intensive purposes 7Sensors is officially shut down. 
Aspen Grobox (formerly known as GrowBox One) was actually a subsidiary of ADI Ventures (Aqua Design Innovations) which was founded back in 2010. Aspen Grobox was designed to be their cannabis home growing product, complimenting their existing line up of EcoQube products, all of which were launched on Kickstarter. Over the years, ADI launched a total of 8 Kickstarter campaigns including:
EcoQube - Nov 30, 2013 - $79,026 (581 Backers)
EcoQube C - Apr 7, 2015 - $375,058
EcoQube Air - April 4, 2016 - $305,747
EcoQube Frame - Mar 21, 2017 - $148,213
EcoQube C+ - Oct 30, 2017 - $128,382
Aspen Grobox - Jan 9, 2018 - $76,677
EcoQube Sprout - Jul 11, 2018 - $39,576
EcoQube Glo - Jul 16, 2019 - $17,697
As you can see above, their campaigns peaked in 2015/2016 with their flagship products. Although the AspenGrobox campaign was not one of their most successful, they did work on producing the product and leveraged their years of manufacturing and supply chain experience to move as quickly as possible. Their debts and expenses, however, outweighed and revenues. 
On September 5, 2019 the Aspen GroBox Facebook group was archived by their team and they went dark. The company quickly deleted their website and social media pages, but didn't communicate with their Kickstarter Backers who didn't receive their orders. 
On January 22, 2020 the company officially filed for Chapter 7 bankruptcy protection in California. This effectively shut down all production and sales of EcoQube, EcoQube Air, EcoQube C and the Aspen GroBox. As of filing for protection, their assets totalled $176,273 USD with debts of $1,208,791 USD. The largest creditor is listed as MonkeyTall LLC with a claim of $487,117 USD. 
Today, the backers continue trying to get their money back. Unfortunately, with this level of debt and such large creditors, its unlikely that will happen.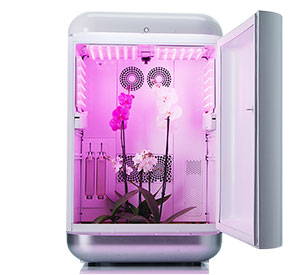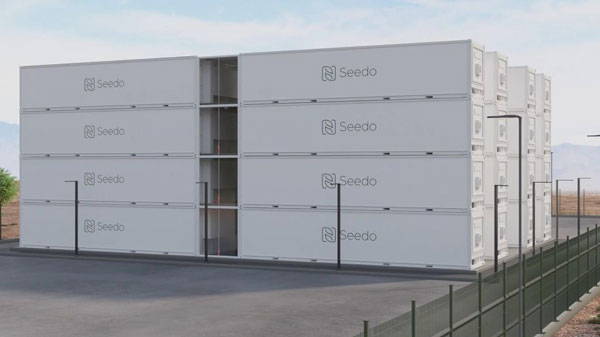 Yup, Seedo Labs has gone bankrupt as of early 2020. As a public company, there is a ton of information around their rise and fall which fits right in with the Theranos / WeWork trend that is unfortunately happening.  
Seedo, Eroll Grow Tech Ltd. incorporated in Israel on May 18, 2015 and is likely the best known home grow box company. On November 18, 2016 they launched a viral video that quickly gained millions of views across Facebook and YouTube. They quickly began accepting pre-orders for their growing system and ramping up marketing efforts. In 2018 the company hosted a party for celebrities, in partnership with Interscope records and continued accepting orders from around the world. 
Now, as a hardware company, shipping globally in one fell swoop is a monumental task. Every country has their own electrical certifications, import rules, taxes and duty requirements, recycling requirements, and more. On top of that, you actually need to support your customers. That requires distribution centers and well trained customer support agents. 
This was a huge operation and, to fund it, Seedo turned to the public markets in November 2018. That transition proved both good and bad for the company. At the peak, their market cap was nearly $100M USD which opened up significant funding opportunities... however Seedo still hadn't shipped anything. As their shares began to correct back to a normal valuation for a company with $0 revenue, the company turned to press releases to boost their sales. 
A prime example is their work on the Seedo Farm container growing systems. They secured two locations in Israel to build these systems which, on their own, are a huge multi-million dollar investment. The press release nearly doubled their stock price, again putting them into a good spot. 
Then, the downfall. By 2019, Seedo was spending nearly $1M USD each month. Even as they began shipping, the company was losing considerable money. In the nine months until September 30, 2019, Seedo had fulfilled their first $703K USD in orders but it cost them over $1.2M to fulfill those orders.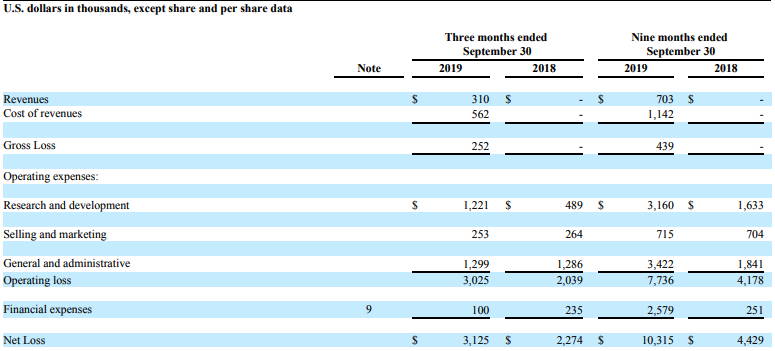 With another $2.5M in orders to ship, with their current margins it would cost them $4M USD to fulfill those orders, further increasing their overall losses as a company. In a last ditch effort to survive, Seedo did two things:
1. Released a press release regarding a patent application for a growing system to be placed inside grocery stores. This, however, did not affect their stock price at all. A sharp contrast to their announcement of the Seedo Farm.
2. Partnered with Snoop Dog for $1M cash and the option to purchase $1.4M in company shares at a discounted price. Their most expensive marketing stunt yet, it was most certainly a last ditch effort to boost sales and help secure further investment.
By December 2020 the company officially filed for bankruptcy protection and went under with $2.5M in customer deposits and millions more in debt.
As a whole, the company spent over $20M and shipped only a fraction of what they owed to customers. They tried to take over the world, shipping everywhere at once and building multiple different growing systems all at once. In the end, it proved to be too much.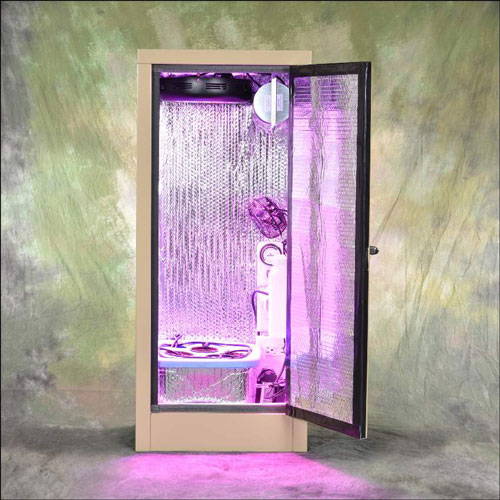 Grow Box USA's first reviews date back to late 2013 when they began producing grow boxes. They offered a variety of grow box sizes in a build-your-own type of model. This allowed customers to buy just the box, or the box with lights, automation and more.
Their boxes featured names like The Misty, The Lacy, The Halfback and The Fullback and ranged from 1 foot wide to 4 feet wide and 6 feet tall. 
With a Facebook audience of 54,000 it's not clear what happened to the company. Their last Facebook post was in January 2019 and in March 2020 their domain name went up for sale.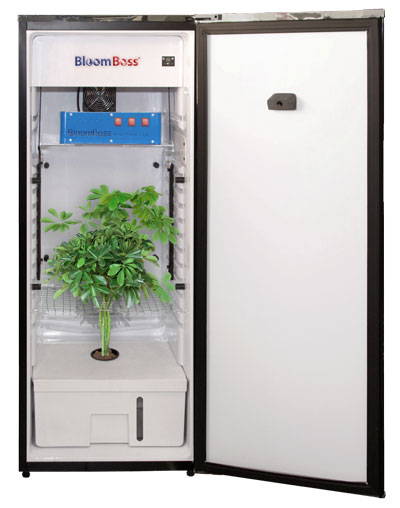 This project was backed by Danby, a large appliance manufacturer. They teamed up with BloomBoss, an LED company with experience in the cannabis space, to design this system. The grow box was designed to leverage Danby's manufacturing capabilities, and be built inside of an existing refrigerator enclosure. 
The GYO Kickstarter campaign in September 2018 was met with lackluster enthusiasm. They barely reached their $25K target and within a couple months the project, and subsequently the company including BloomBoss was shuttered. Behind the scenes, the team leading the project was not tech savvy nor were they marketing experts. Grobo was offered the opportunity to build their control system, but we declined to focus on our own products.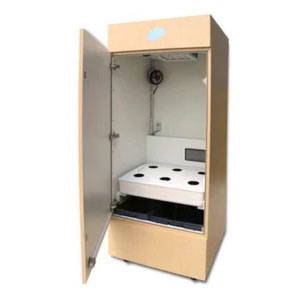 The Cloudponics GroBox was actually the first grow closet with automation to begin shipping and, to their credit, they revised and upgraded their designs frequently to improve them. With a simple cabinet design, the majority of their time was spent on a control box that they used to control the system. A number of customers did receive their systems and the reviews were a mix of good and bad, as can be expected with any new product.
Cloudponics was a hybrid acquisition / shutdown in early 2019. There are rumours swirling that their warehouse had a fire, but whether that's true or not, their technology and team was rolled into a new company called CitizenGrown. Their mission is to drop growing systems into people's homes and then pick up the finished flowers. The company has shifted slightly and it looks like the founders are no longer with the company. It's unclear if the original Cloudponics technology is still in use either. 
BC Northern Lights (BCNL)
Last but not least. BCNL is still in operation and shipping grow boxes. They've been around for 20 years now but it's not clear how much longer they'll be around for. Here's why:
The Vancouver, BC based company started in the cannabis space in 2001. By 2010, the team created a sister company called Urban Cultivator which appeared on Dragons' Den in Canada in 2012. From that appearance, they received an investment from Arlene Dickinson, a large investor within the food space. For the next few years, they continued to develop both sides of their business.
In October 2017, the company (including both Urban Cultivator and BCNL) was acquired by Aurora Cannabis. Aurora ($ACB) paid $3.85 million in cash on closing with up to a further $4 million based on pre-set sales and performance targets. 
With Aurora's recent losses throughout 2019 and 2020 (the stock is down 90% in the past year), and the small profits that BCNL has on their bottom line, it sounds like they too might be shut down soon. In February 2020, they announced that 500 employees would be let go in order to reduce their losses. I can't confirm anything yet, but this twitter account from employees (or ex-employees) of Aurora does say that BCNL will be shut down as part of this restructuring. Only time will tell what Aurora has planned for this investment.
June 2020 Update: The original BCNL owners have taken control of the company again. It continues to be in operation.
Why Grobo Is Here To Stay.
Automated grow boxes are complex. 
They require large amounts of expertise in hardware, software and horticulture... and you also need a business and marketing team that can ensure a operating path for the company. Then, as with any new technology, you need to take a controlled approach to growth to make sure that the tech is truly capable of producing the desired results.
At Grobo, we have all of the ingredients. 
Countertop Growing Systems - Unlike them, Grobo's grow boxes pay for themselves in less than 18 months.
Phototron - Unlike them, Grobo understands how to market a product in 2020 to a saavy and informed group of consumers.
LEAF - Unlike them, Grobo turned down money that would require us to go public. We believe that customer value is more important than shareholder value.
7Sensors - Unlike them, Grobo launched a product and then delivered.
Aspen Grobox - Unlike them, Grobo currently has no debt. We have fulfilled all customer orders and have cash reserves on hand.
Seedo - Unlike them, Grobo is focused on starting small in North America and then growing bigger when the time is right.
GYO - Unlike them, Grobo has software, hardware and horticulture expertise all under one roof.
Cloudponics - Unlike them, Grobo is unwavering on our focused on home growing. 
BCNL - Unlike them, Grobo has not undergone multiple ownership changes and we continue to always focus on our customers.
At Grobo, we have an incredible team, we're backed by phenomenal investors, and more importantly, we have the best customers & community in the world. Seriously, go check them out at www.allgrowers.com.
What we do is hard but we've been in the business for many years and look forward to many more. We're always here to help and we want to show you just how amazing home growing can be. 
Have you had a good or a bad experience with any of these companies? 
Let us know in the comments below.
Have questions about Grobo? 
Give us a call at 1-855-229-1770 or email us at support@grobo.io and we'll show you why Grobo is the leader in home growing.