Deep water culture sounds like an exciting adventure, and it is - if you're enthusiastic about efficient methods of growing plants. As the term suggests, the plants grow in water.
Growing vegetables and other plants without soil is a process that has been around for centuries. Hydroponics is firmly rooted in the history of food production. DWC, as deep water culture is known, is a variation of hydroponics.
If you think about it, all plants need are air, water, nutrients, and light to grow. It's been proven that plants grown using the DWC method grow faster and produce higher yields than plants grown in any type of soil or climate. Many people think that hydroponics is much harder than growing in soil, but with a bit of research it really isnt much harder, and your plants benefit so much from this type of system. 
Interested? Discover how you can set up your own deep water culture at home without too much effort or breaking the bank. 
So, Why Is It Called Deep Water Culture?
Unlike other hydroponics methods (such as the ebb and flow system), with DWC, most of the root mass is submerged constantly in water. The plant itself is in a relatively large (or deep) body of water. These two aspects have earned the method the name of deep water culture. Often there is an airstone and air pump in this system to ensure the water is oxygenated, which is better for the plant. 
It's interesting to note that the larger the reservoir, the greater the stability in the nutrient solution, with fewer variations in its pH value. This translates into less maintenance and monitoring, topics that we'll get to later.
DWC is one of the simplest methods of hydroponic growing, and it's easy to set up a small system at home. And you don't need to have experience: just try it! Growing plants is all about trial and error. 
There're complete kits available online that are easy to assemble. They provide you with all the essentials for your deep water culture system.
They include:
          ●  a five-gallon bucket
          ●  one or several plant baskets, which fit into holes in the bucket lid
          ●  an air pump, in the 44 gallons per hour (GPH) range
          ●  air tubing
          ●  an air stone
If you're a DIY kind of person, then you might have a few things lying around the house which will do the job equally well. If you once had a small fish tank or aquarium, you could probably use the air pump from that for your DWC system, for example. And, of course, the small fish tank could serve as your reservoir.
Well-aerated water assists in the delivery of nutrients to the plant's roots. Despite encouraging DIY enthusiasts to use what resources are to hand, we recommend that you have a spare air pump to hand just in case your existing one fails for any reason. You never want your pump to fail, as too long without oxygenated water can lead to root rot. You can read more about root rot further down in this article. 
The main thing to remember is your plants need aerated water for the transmission of oxygen to the plant's roots, and nutrients. The type of plant nutrients you need will depend on what you're growing. Again, there's a range of purchase options available online.
          ●  A thermometer
          ●  pH testing kit
Most plants are happiest in water temperatures ranging from 62-68°F (17-20°C). If the water/nutrient solution temperature goes above 72°F (21°C) the dissolved oxygen (DO) level goes too low. This places stress on the plant.
Plants take temperatures below 60°F (16°C) as a signal that the season is changing and start to slow their metabolism, which in the growth phase would lead to slower growth. If you're an experienced grower, you can manipulate the temperature of the water and nutrient solution near the flowering stage to hasten ripening. By lowering the temperature right near flowering, it mimics how the plant would grow in nature. The cooler temperatures are a signal that fall is approaching, and it's time to flower. 
Our advice is to keep the temperature constant, and let the plants do their thing! Your plant will still flower even without lowered temps. Photoperiod plants flower depend on the amount of light they receive each day. 
Cheap and reliable pH testing kits are also available online. Anywhere between a pH of 5.5 and 6.5 is fine. Vegetative growth responds best when the pH is between 6.0 and 6.3. Flowering and fruiting prefer a pH of between 5.7 and 5.9.
By monitoring and adjusting the pH levels of your nutrient solution as necessary, you'll be ensuring optimum availability of the minerals and nutrients that the plant needs at each stage of its development. By looking at the chart below, you can see most nutrients are most available to the plant when the pH is neutral- slightly acidic. This is why it's important to monitor your pH so you plants are able to uptake the nutrients they need. 
Keep the EC/TDS on the low side. (That's electrical conductivity and total dissolved solids for the uninitiated.) Based on the manufacturer's guidelines, try half-strength or even lower at first, when the plants are young.
Lower EC normally results in a higher intake of water by the plant, thus increasing the plant metabolic rate and therefore the transport of nutrients.
If you want to get geeky, then you can read all about whether EC or TDS is the more reliable measurement when determining the strength of the hydroponic solution. For beginners, simplicity is best!
Speaking of simplicity, Grobo makes pH and EC incredibly easy.. because you don't even have to think about it! Our sensors test the water hourly, and adjust the EC and pH as needed. Your plant will never go hungry! 
Traditional flower pots should not be used since they only have one tiny hole through which the roots can pass. This is not effective as the water would only be able to go through the one hole. This does not allow for much water circulation which could result in root rot. 
What you need is a 
plant basket
, with ample room for roots to spread out in all directions. Watching the root mass grow is perhaps more fascinating than watching the top half of your plant develop. Below is an image of a hydroponic plant basket. Note how easy it would be for the roots to grow beyond the size of the container, and how easy it is for water to circulate through the container. 
A healthy root system indicates that your plant is doing well. If the roots begin to look dull or brownish, then something (usually temperature or pH) isn't right, and you should take steps to remedy the situation.
If you have multiple plant baskets in the same reservoir, or a modular system, ensure that the plant baskets are spaced sufficiently far apart so that each plant has enough room to grow. There's no real rule of thumb here since each plant is different.
The Air Stone - Avoid Root Rot
Aside from the air pump and the plant nutrients, the air stone is a very important element. It's worth making sure you get a good quality one since this is the piece of equipment that regulates the bubbles caused by the air pump. It also distributes the air bubbles evenly throughout your reservoir, meaning that all parts of the root system get adequate oxygen and nutrients.
You must avoid root void – an area of your reservoir that isn't properly aerated, causing some parts of a plant's root system to get less than ideal levels of oxygen and nutrients, and begin to die. 
Root rot appears as brown mushy roots. Healthy roots should be firm to the touch, and white. Rotten roots will also have a rotten odor to them. Below is an image of what healthy roots should look like in a DWC system 
The Pros and Cons of Deep Water Culture (DWC) 
Although it might seem complicated, DWC is very low maintenance. The system has only a few moving parts. Once you've had success with a single-bucket system, you might want to upgrade to a bigger system – or simply create more single bucket systems.
There are reports that lettuce takes only 30 days to matures in a DWC, compared to the 60 days typically required in soil. The same is true of other plants, like cannabis. Deep water culture is immensely satisfying because you can see your plants growing rapidly from day-to-day.
You might want to keep a DWC logbook or diary. As you progress, your notes could be a useful resource on which you can base improvements in the way you grow things in the future. You can also use your notes to share info in the Grobo online community discussion group. Many growers share their tips, tricks and even failures here. It's an awesome group to be apart of to step up your growing knowledge. 
Cons 
Most problems with deep water culture can be avoided. In small systems - such as the five-gallon bucket system, you might have wild fluctuations of pH, water level, and nutrient concentration. This is because it's very easy to over- or under-calibrate with small systems. Purchasing an EC reader is beneficial, as you can monitor your plants water parameters to help prevent huge fluctuations. The one linked above is low tech, easy to use and perfect for beginners and advanced growers alike. 
Pump failure or electricity outage for any length of time could cause your plants to "drown." If you have an electricity outage or a pump failure, your roots may struggle to survive in the low-oxygen nutrient solution. It can be difficult to maintain consistent water temperature in DWC as well if electrical lighting needs to be your chief source of heat. 
Maintenance and Monitoring
Aside from monitoring water temperature, and testing the pH of the water, you'll also need to check the water level. 
Remember that the plants are growing. The faster they grow, the greater the uptake of water (and nutrients). This means that when the plant is more mature, you will need to fill the tank more often, as the plant needs more water to survive. Their root mass needs to be covered at all times. The success of your DWC experiment depends on maintaining a constant water level which covers the root systems adequately.
With Grobo, no need to check water levels. Our app will remind you when to drain and when to fill the unit so your plant never goes without water. Its basically fool proof! 
The reality is all plants attract bugs, and it's very hard to prevent. You best prevention method is to be proactive. Make sure to inspect you plants often and become familiar with the signs and symptoms of common pests. 
If you do find you have pests on you plant, no need to stress. If it's only a few bugs, the infestation is pretty new and should be easy to eradicate. It's always best to go organic first, and step it up to stronger insecticides if needed. It's also beneficial to switch up the treatment method, as some pests can become resistant to insecticides- especially thrips. 
If you are looking for an effective DIY insecticide, I have an awesome one for you. I have been using this spray on many types of vegetables, fruits and ornamental plants with success.
Mix 3ml neem oil with 3ml Castile soap. I use unscented, but you could use peppermint. Peppermint is a natural pest deterrent. Next, fill a 1L spray bottle half with water and half with rubbing alcohol, and add in the soap and neem concoction. Give it a good shake and its good to go! 
If you want to step it up, you could purchase an insecticide from you local gardening store. If you own cats or fish, be careful. Pyrethrin is a common ingredient in insecticides, and is very toxic to these animals. This is why dogs and cats have different flea medications, as dogs are not sensitive to pyrethrin! 
Other Hydroponic Grow Methods 
While on the topic of deep water culture, we should highlight some of the other common hydroponic methods. Hydroponics is simply growing plants without soil or other growing medium. All of these methods use water to grow plants. 
Some of these methods are easier to do at home than others, but here is a brief overview of each method: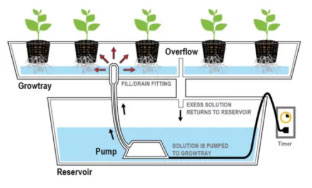 In this process, plant roots sit in a coarse growing medium for support, while a water and nutrient solution periodically flows past the roots on a set time schedule. This is similar to the ocean's rising and receding tides. This allows for the aeration of the roots, while automating the job of watering the plants by hand.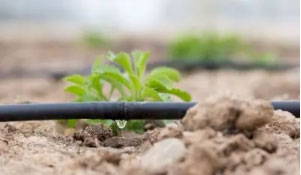 This method involves small drip emitters that deliver a constant drip directly to the soil. This ensures that the soil is always moist, but not over watered. This method also help reduce water runoff and evaporation. It's very handy in regions where water is scarce. There are several different varieties of drip irrigation, including surface drip, sprinkler drip, trickle drip and subsurface drip. You can read more about them here.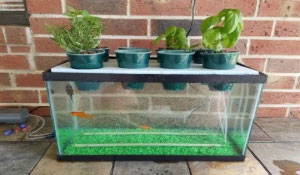 The combination of aquaculture (raising aquatic animals such as snails, fish, prawns etc. in tanks) and hydroponics (cultivating plants in water) in a symbiotic environment. A symbiotic environment simply means that both parties benefit from working together. The waste produced by aquatic animals supplies nutrients for the hydroponic plants. In exchange, these plants purify the water for the animals.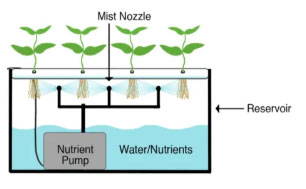 The process of growing plants in an air or mist environment, without the use of soil or aggregate medium. Plant roots hang in the air, and a mist of nutrient-rich water is sprayed onto the roots periodically. This ensures the plant get all the nutrients and water it needs. This method is harder to do DIY, but has significant benefits. Since the roots are constantly exposed to oxygen, the plant thrives and grows much larger and healthier than a plant in soil. 
6. Nutrient Film Technique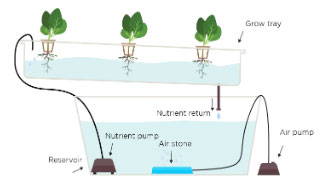 This technique involves running a continuous oxygen and nutrient rich film of water over the plants roots in an enclosed space or tube. This method is beneficial as it uses less water, and the constant flow of water prevents salt buildup. 
Overall, all of these methods have their pros and cons. It's really up to you how you want to grow your plants. Theres a but of prep and researched involved with all of these methods, but it will be worth it in the end. 
Many of us live in the city. We don't have access to even a small patch of land where we can develop a small garden. Deep water culture offers us the opportunity to cultivate something and reap the rewards in a very small space indoors.
Some gardeners have special greenhouses for their hydroponic projects, but a corner of a room in your apartment is more than enough to get started.
Higher yields and simplicity are two of the best reasons to switch over to deep water culture. 
We're big on encouraging people to grow things for themselves, even if they don't think they have green thumbs. With Grobo, you can grow amazing plants stress-free. 
Grobo uses deep water culture to grow healthy plants. With Grobo, theres no research or planning you need to do. The automated grow box comes with everything you need to get growing. We have plenty of educational videos to help you get the unit set up, and after that you can basically forget about it. The unit will send you reminders via our app, and will remind you when to drain and fill the water, when it's best to execute some trimming and training techniques. 
Grobo also has over 1500 seed recipes in our app. We have recipes for many different species of plants, not all cannabis! We are sure you will find exactly what you want to grow, especially since we have new recipes coming daily! 
Do you have any other questions about a DWC system? Ask them in the comments below!