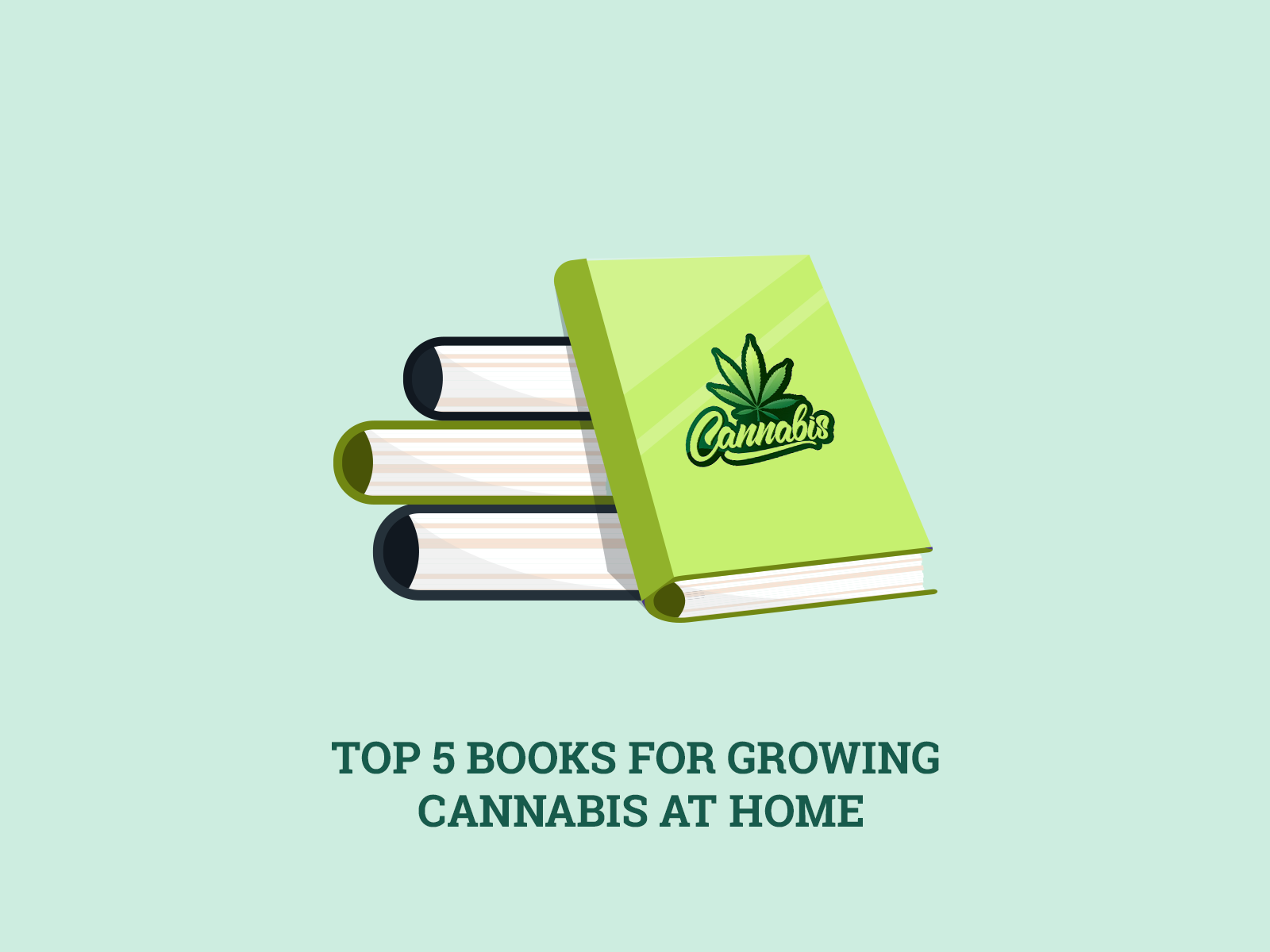 Some strains of cannabis are capable of flourishing in nutrient-poor soil and extremely dry conditions. However, high-quality cannabis plants often require more care, preparation, and planning. As such, growing cannabis at home can be tricky.
With the right marijuana cultivation book, you could enjoy a better harvest and faster grow period. While you might already be familiar with Greg Green's The Cannabis Grow Bible, there are several other helpful books that worth checking out.
Let's explore five of the top books for growing cannabis at home. You may just find that one of these volumes helps you grow with greater confidence and achieve more satisfying results.
1. The Cannabis Breeder's Bible - Greg Green
Greg Green's The Cannabis Grow Bible is generally well-known for it's excellent advice to cannabis growers. But Green's other popular cannabis book, The Cannabis Breeder's Bible, is a little more finer-tuned and aimed toward experienced growers.

Unlike beginner's grow books, this 253-page volume includes information on expert growing techniques. It also includes in-depth profiles on popular strains. Even better, this handy guide offers readers the opportunity to learn more about hybridization.
Growers who have already have a firm understanding of cannabis basics and cultivation fundamentals may be ready for this book. It covers some truly unique and advanced topics, including:
Breeding compatibility among strains
How to increase potency and coax femininity
Spotting common and uncommon mutations
Cannabis pollination, harvesting, and storage guidelines
Those who are visual learners are bound to enjoy the full-color photographs and instructions. Equally, reading learners can spend hours poring over the delicately detailed chapters on primordial and lost strains.
After finishing this book, you may feel confident enough to begin experimenting with your plants. Creating unique hybrids could certainly be part of the fun of cannabis cultivation if you're open to trying it.

While advanced growers are well-suited to this particular book, a beginner may also enjoy leafing through its pages. There's a little bit of everything in this volume, making it an easy pick for anyone who wants to grow marijuana.

2. Cannabis: A Beginner's Guide to Growing Marijuana - Danny Danko
Though this growing guide might be on the lighter side at only 144 pages in length, it contains a wealth of practical information for beginner growers. Each page is highlighted with a bright illustration, many of them instructive or explanatory.

For example, readers can find an easy-to-read and view cloning how-to, as well as a brief guide to common marijuana plant pests. This short volume also addresses several common questions that beginning growers must ask themselves.

The decision between soil and a hydroponic solution is often one of the first hurdles to overcome. The decision between indoor and outdoor growing is yet another. This smart little book does a fantastic job of addressing these issues.

Consequently, this might be a better choice for potential growers. If you've yet to invest in a grow kit or make any significant decisions about your future set-up, this book could help you arrive at the right choice.

Some of the topics readers can expect to explore include:
How to create an indoor growing space
Basic marijuana strains
How to germinate cannabis seeds
This book might not answer your wildest question about marijuana and cannabis cultivation, but it can bring you up to speed with the basics. For this reason, it's one of the top growing books for beginners and curious potential growers.
3. Ed Rosenthal's Marijuana Grower's Handbook
Growers looking for the most recent growing guide may feel delighted to know that Ed Rosenthal's Marijuana Grower's Handbook was published in 2010, making it comparatively new. And at 510 pages long, it's also competitively paced.

Like other options on this list, this growing handbook is outfitted with a wide range of detailed, glossy photographs. But what's far more stunning about this book is a unique approach to cannabis cultivation and self-education.

Rather than feeling like a dry and dusty textbook, this is one of the rare cultivation guides that is sincerely fun and exciting to read. Each section is written to help you feel more motivated, which could you prepare for your grow more effectively.

All of your basic info is there, including:
Cannabis nutrition and fertilizer ratios
How to grow cannabis with intense space limitations
Understanding how better light and space

can improve the yield
How to restart a cannabis garden after harvesting
This volume might not be satisfying for intermediate or advanced growers, but it's bound to keep beginners or potential cultivators entertained and informed.
4. The Cannabis Grow Bible: The Definitive Guide to Growing Marijuana for Recreational and Medical Use - Greg Green
At last, let's get down to discussing one of the most beloved marijuana grow guides ever published, Greg Green's The Cannabis Grow Bible. There are a ton of reasons why any cannabis cultivator could fall in love with this 562-page treasure trove.

Consisting of 20 jam-packed chapters, this massive book is a great gift. The first chapter has more than a dozen subsections devoted to the history of marijuana, modern cannabis law, and cannabis taxonomy.

Anything that may have ever wondered about marijuana and its cultivation most likely lies somewhere in the pages of this well-loved book. Still, this book may not explore the argument between indoor and outdoor like others do.

What it does discuss is:
Organic cannabis cultivation, fertilizing, and harvesting techniques and tricks
In-depth indoor grow operation guide and environmental control tips
Advanced soil science
Comprehensive hydroponics set-up guide and information
Plant troubleshooting
Follow-up checklist for maximum effectivity
If you only choose one of these fantastic growing guides, you may want to lean toward choosing this one. It's a grandiose mix of beginner's tips and set-up how-to's and advanced botany lessons.
This hefty volume manages to provide all of the information without sacrificing plenty of room for high-quality full-color photographs. After spending a little time with these photos, you may be able to identify several popular strains of cannabis.

These images are so helpful and so gorgeous, they could also serve and continual inspiration as you face common growing challenges. Lastly, you might want to spend a little extra time exploring the breeding guide sections of this book.

There's enough info to ensure that you get the best possible hybrid buds from your favorite and most compatible parent strains.

5. Marijuana Horticulture: The Indoor/Outdoor Medical Grower's Bible - Jorge Cervantes
Coming in at a whopping 512 pages, this growing guide is almost the largest of the bunch. It's very similar to Ed Rosenthal's book, but with some definitively unique and helpful takes on common topics, like greenhouse growing.

There are 17 chapters to peruse and explore, and each one offers an in-depth look into the world of marijuana cultivation and propagation. A significant portion of the book is dedicated solely to discussing the many different growing options.

Both indoor and outdoor set-ups and explored, as are greenhouse environments. Common growing issues, such as pests and disease, are addressed, but some of the information concerning popular strains is a little outdated.

Still, the gorgeous photos and abundance of helpful information make this book an excellent addition to any grower's literature collection. It explores a wide range of subjects, including:
A step-by-step guide for cloning plants
Information concerning both the male and female plant life cycles
How to make hash and oil from the harvested herb
As such, this guidebook is one of the most comprehensive and appropriate to all levels of growers, even if it could benefit from a quick information update. However, it's not exactly the best book for a toting around, which is a shame.
Growing Cannabis At Home With Grobo
Each of the above books could help your master growing cannabis at home. The right one for you depends on your specific preferences and home-growing needs. Still, if you can afford to buy them all, you'll have tons of useful info at your disposal!

Looking for an easy indoor/outdoor growing solution? Grobo, the automated grow box, might be the convenient hydroponic solution you've been looking for. To use, simply add your plant, and pick a grow recipe on the app.

There are hundreds of strains to choose from, and once you've made your selection, Grobo will do the rest. This nifty automated grow box can reduce plant smells, and users could grow 2 to 3 ounces of herb per 3 to 4 month period.

You could grow plants from seed, seedling, or clone with Grobo. If you're interested in learning more about Grobo, you could watch tons of educational videos about Grobo and learn how to successfully plant with this automated grow box.

Still, if you enjoyed this article, then feel free to contact us for more information!