For those of you hopping on the DIY cannabis train, this is a great recipe showing you how to make your own cannabis oil, specifically Honey oil/Hash oil. It's actually quite simple and doesn't take too long.
We find there's a pride in growing your own marijuana and then making your own honey oil. It's cheaper than buying from retailers, and this way you can ensure no harmful chemicals or preservatives are ever added.
Convinced? Let's get cooking! 
Simply put it's the oil extracted from the marijuana plant. The concentrations of THC to CBD will depend on what plant you are using. The concentration of THC to CBD in your plants will be the same ratio in the oil you extract from it.
For example, the oil extracted from an Indica strain is higher in CBD, while the oil extracted from most Sativa strains is typically higher in THC. Most people opt for a hybrid marijuana plant that has a more even mixture of THC to CBD.
THC (Delta-9-tetrahydrocannabinol) is a psychoactive compound found in marijuana plants. It is responsible for the euphoric or "high" feeling that most people associate with weed.
CBD (Cannabidiol) is not intoxicating. It will not give you the feeling of being high but it does have effects on the body and mind. CBD has calming effects and is often used to help with pain, inflammation, and anxiety. 
Both THC and CBD have a direct effect your body's endocannabinoid system. They encourage the release of the body's endocannabinoids and help to create balance (homeostasis). The ratio of THC to CBD varies greatly from plant to plant. 
Honey oil will have a mixture of THC and CBD, not to mention many other cannabinoids and terpenes. But the strength will all depend which strain and what type of plant material you are using! 
How is oil extracted from a cannabis plant?
Believe it or not, alcohol! But it's not the alcohol we drink, for oil extraction we use isopropyl alcohol. The alcohol pulls the oils out of the plant and then you discard the plant material and evaporate the alcohol so all you are left with is the Honey oil/Hash oil.
What is Honey Cannabis Oil?
Honey cannabis oil, also known as Hash oil, has gone through the Winterization process. If you skip the winterization process you will end up with Cherry oil instead of Honey oil.
Honey Oil goes through winterization which helps to remove unwanted substances like plant waxes, fats and chlorophyll. The result is a much cleaner and clearer oil. Cherry oil skips the winterization process, and thus much darker, resembling molasses more than honey.
So what's the difference between Honey oil and Hash oil?
Nothing! Honey oil and Hash oil are two different names for the same product. You may hear Honey oil and Hash oil used interchangeably, and that is because they are one in the same. Honey oil = Hash oil! 
Winterization is not as complicated as it sounds. Winterization basically just means we freeze something before we start. To make Honey Oil/Hash oil you will first need to put your marijuana and isopropyl alcohol in the freezer for 24 hours. The purpose of winterization is to reduce the amount of chlorophyll and waxes that come out of the marijuana as you extract the oil to make Honey oil/Hash oil.
HONEY OIL AT HOME
What you need:
• 

Cannabis/Marijuana (10-20 grams for best results)

• 

Isopropyl Alcohol 

• 

Freezer 

• 

Baking pan 

• 

Jar 

• 

Coffee filter or mesh bag 

• 

Knife or scraping tool 

Step 1:
This first step is called winterization. Put the marijuana and isopropyl alcohol in the freezer for 24 hours (separately).
You can use the entire plant, premium flowers or just the sweet leaf and your popcorn bud if you so please. 
Step 2:
After 24 hours, remove the cannabis and isopropyl alcohol from the freezer. Put your cannabis in a jar with a lid (if not already) and then pour the isopropyl alcohol into your jar filled with cannabis. Pour enough isopropyl alcohol to cover all of the cannabis.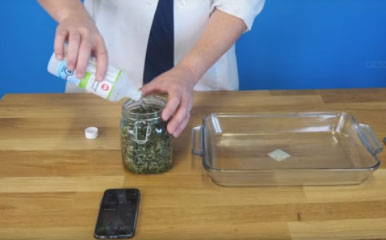 Step 3:
Shake the jar for 30 seconds.
Step 4:
Pour the marijuana and isopropyl alcohol through a coffee filter or mesh bag into a baking dish. We used a glass dish here!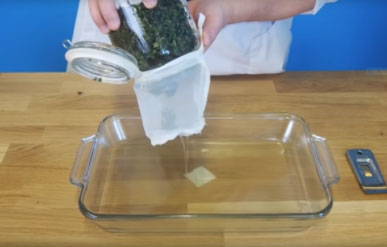 Step 5:
Wait until the isopropyl alcohol has evaporated. This may take 24 - 48 hours. If you have a fan + small heater, you can speed up the process to a couple hours. You do not need to place the baking dish in the oven. It will evaporate without the high temperatures!
Step 6:
Once all of the alcohol has evaporated, scrape the remaining oil on the pan into a container. You now have Honey oil/Hash oil!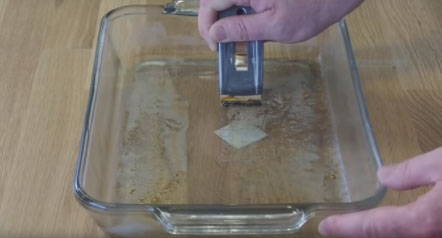 Did you enjoy this article? Check out our video, it will walk you through the steps with our Lead Horticulturalist Stephen! If you like the video and learned something, give us a like, comment and don't forget to subscribe so you can keep up-to-date with our content!
Not sure what to do with the honey oil next?
Check out our video on making gummies with honey oil!
 Or roll up some of your favourite bud with some of your freshly made oil and treat yourself to something extra special - made by you! 
Stephen Campbell  
Stephen has been a medical cannabis patient for the last 15 years in Canada. His passion for growing has led him to become the horticulturalist and customer success lead at Grobo.