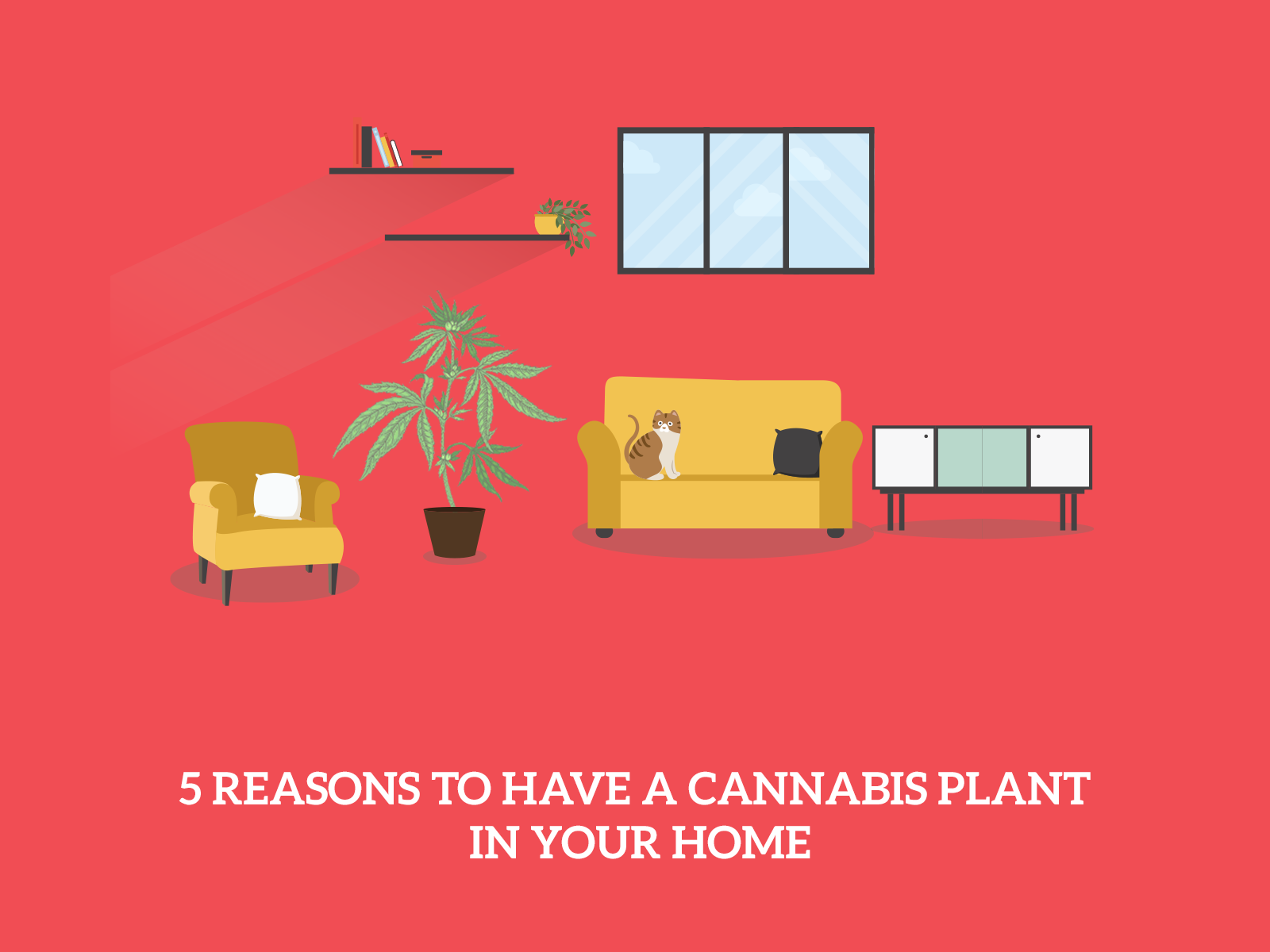 Growing your own cannabis plant is a wonderful hobby in places where it's legal and brings with it a lot of benefits. Obviously, before you head out and start trying to purchase products, make sure that you can legally grow cannabis in your home. In most places where it's legal to consume either recreationally or medically, you have the ability to grow but you might need certain permits or have to meet certain requirements. For example, many states in the United States allow you to grow no more than 6 plants in your home and if you choose to grow any more than six, you need special permits. In some places, home cultivation has specific stipulations for the seeds or clones you can grow, so just make sure that you do your research. It's better to be safe than sorry. 
But why should you bother? Why have a cannabis plant in your house?

Firstly, when you grow cannabis in your home, even if it's just one plant, you have total control. It's just the same as brewing your own beer. You have complete autonomy over how the plant is cultivated. There are so many ways that you can grow successfully at home, picking a system that you like best, putting in your personal love and care, knowing that one day you're going to consume the various parts of the plant. 
And it doesn't matter where you live, how big your home is, or whether you have a garden outside. You can grow it in raised beds directly in your garden. You can cultivate it in soil containers if you don't have space in the ground. If you need to grow it in a smaller area, you can even look for hydroponic solutions. There's literally a design out there to make it easy and fun no matter your preference.

With personal control, you have the opportunity to make a product that is safe to consume. You don't have to use certain pesticides or fertilizers if you don't want to. You can make whatever amendments to your garden that will give you the best possible plant. And if you're using the plant for medicine, what is better than being able to control your medicine from the beginning to the end? 
Hobbies Are Good for Your Health
It's good to have hobbies. There are many hobbies that help you grow personally, and gardening is one such hobby. It doesn't matter what you're growing, gardening brings with it mental benefits. You get to work with your hands, and you get to focus on your tactile engagement when you are doing that, which has been shown to decrease stress in and of itself. You might be growing your little cannabis plant to help with your insomnia or your anxiety, but guess what? The act of growing will help with both. 
Taking up an interest in cannabis cultivation might reveal your green thumb. Once you can get a few plants to grow successfully, you might get hooked on horticultural practices in general, and try to grow different plants each year, maybe grow a few more plants next year, or maybe start a whole garden of all manner of plants, cannabis included. Any skill set you can add to your arsenal are lifelong skills that will help you down the road. The practice, forward-thinking, on-the-spot creativity, and otherwise general care that you have to apply toward maintaining a plant can be applied toward your work, a hobby as a designer or a carpenter, and much more. 
If you consume marijuana regularly, you know how much it costs. There's a reason a lot of people like to grow their own herbs and have a tiny herb garden in the kitchen. Herbs are expensive but if you grow your own, you can save yourself a lot of money, especially when you just use it periodically. The same is true of cannabis. No matter your budget, you can find a method of growing even just one plant that will help you cut down on the total amount of money you invest in your local pot shop. 
Like with all things, there are going to be some start-up fees. Even if you try to grow a garden with just basil, you're going to have start-up fees. But that's okay because these costs dissipate over time. In fact, the more often you grow, the lower the cost will become. If you successfully cultivate one plant and decide to do one or two plants the next year, you don't have to put in as much money to sustain the hobby. In fact, the longer you do it, the less it will cost you, so getting started right now, even with just one plant, is an investment in your long-term marijuana savings. Buying cannabis at a dispensary adds up quickly, but when you have a few plants you've grown at home, you won't have to set aside so high a budget for it. 
This isn't something particularly complicated. There are so many resources available today to help you with home cultivation, and whether it's books, websites, growing communities in your area, or forums online, there are tons of growers out there who are desperate to share the mistakes they've made and the lessons they've learned, in order to help you. And if you're willing to do the research, you can save yourself a lot of time and stress by learning from the mistakes other people have made. The more engaged you get with a network of growers, the more likely it is that you'll be exposed to people who are cannabis enthusiasts in your area and beyond. You might even be able to meet face-to-face for different open workshops and learn how to improve upon your hobby.
Finally, it's always wonderful to be the person who gives unique gifts. You can give cannabis plants as gifts to those friends who showed an interest in having a cannabis plant of their own.  
What are your favourite strains of cannabis to grow at home? Share with us below.